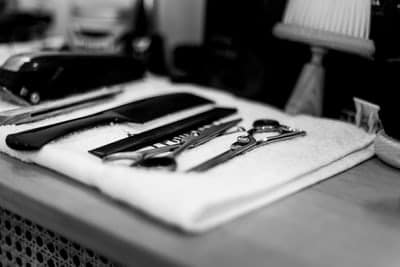 GQ Men's Hair Lounge Men's salon / Best Barber shop in Dubai
BECAUSE MEN DESERVE A PLACE OF THEIR OWN
Have you ever fancied a break from the norm? As we know pampering yourself boosts your self-esteem and can add at least 10 years to your life! We at GQ: Men's Hair Lounge JLT focus at providing the best. We do this by presenting you," OUR GENTS /GENTLEMEN", high quality Men's salon services and unique customer care. The foundation of GQ: is our extraordinary team of Barbers who offer exceptional expertise in all areas of hair care needs and strive to establish long lasting relationships with each client. Our goal is to help each individual see his own sense of style.
Our unique and relaxing oasis is proud to feature advanced hair care products and environment especially tailored for our gents/gentlemen.
Because we believe men deserve a place of their own. GQ Barber Shop: is a warm and inviting space which is a world away that lets you escape from life's worries into a horizon of oomph and wow! A sanctuary built in sophistication with luxurious Italian furniture , catering to the specific requirements of our customers, GQ: prides itself on creating a cozy and welcoming environment for clients. So, whether its different hair styles, hair replacement in Dubai, hair treatments, body wax, facials, Dreadlocks, Perm for men in Dubai, Keratin treatment in Dubai or Designer Fades in Dubai, we have it all under one roof.
We assure you that once you walk through our doors, you will see how our exceptional services and elegant décor combine to create a one of a kind escape. We look forward to sharing our personalized approach and our blissful environment. We bring to you a unique approach to salon spa lounging that cannot be matched in all over Dubai. We are glad to be known as one of the best barber shops in Dubai/ Best Men's Salon Dubai
No matter what part of Dubai you are from if you are looking for one of the best facials in Dubai or a total new look or even just a relaxed pampering, please do not hesitate to contact us or just drop by to see us at GQ Men's Hair Lounge located in Jumeirah Lake Towers.
Best Men's Salon dubai, barber shop, barbers, Barber shop dubai, Gents salon near me