Perm for Men
Are you wondering if perm for men is a good idea?
Are you wondering if perm for men is a good idea?
In our opinion it surly is throughout history we have seen Curly hair Men looking dapper and somehow get along well with the ladies. We have also seen celebrities like Johnny Depp, Orlando Bloom, and Justin Timberlake flaunting those curls. Then why not the Men of today.
 Go to a Men's Perm Specialist
Going to the right stylist is very important. The one which has experience and the one who knows how to render a perm for men. A stylist who has less, or no experience can severely mess up your hair and style.
Bonus Tip: Do check google reviews of the Barber shop/ Men's salon you opt for.
We have chosen 5 styles that can transform your look and can help you rock the curly look. The 3rd one will surprise you.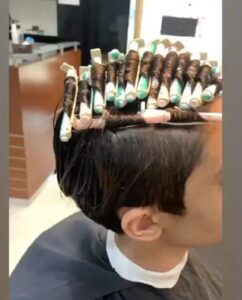 1.Tight Perms:  As the word suggests Tight perm are tight curls, where the length of the hair should be at least 2 inches, and a DIY  way to check this is to take a thick pen and see if you can roll the hair at least twice around it, this can help you identify whether your hair is tight perm ready.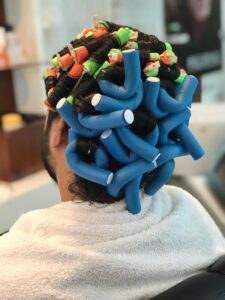 2.Relaxed Curls or loose curls, are a good choice, as they give a sexy messy hairdo look. The stylist will use thicker rods to style your hair into loose curls.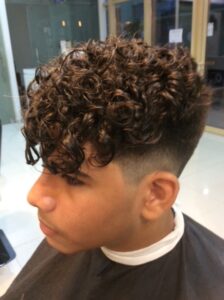 3.Volume Perm:  (Not many people know this)
Boost your curls by going for a voluminous perm. Yes, you read it right it can give volume to your hair. Perming gives your hair volume which make your hair look thicker. The result is more natural, and your hair naturally falls around your face. Many people with thin hair opt for this so that their hair looks fuller.
4. Fade + Perm: A very popular style is the Fade with the Perm; it enhances the curls. even more, and appears as if there is more volume to the hair if you go with the fade. Which is the trendiest look now a days.
5. Perm Hair for teenage Boys: Teenage boys are loving the perm. Boys with permed hair look stylish, especially when they get the curly fade haircut.
You can rock the look in School, University, Date nights, Party or office. The Perm look will make you stand out in the crowd.
Once you have consulted and decided the style, describe it to the stylist.
Styling and caring for the Perm
Its recommended to not wash the hair for at least for 48 hours.
Recommended Styling Products for Mens Hair Perm
The best hair products for permed hair would be products that our recommended by your stylist specially according to your hair type.
The ones that control the frizz and volume. Which will also highlight your curls.  Appropriate shampoos and conditioners ideally meant for perms should be used. These products provide moisture and nourishment to the deeper layers of the hair shafts and keep them healthy.
We recommend using organic or sulfide free shampoos and conditioners that won't make your hair dry. Incorporating masks, and serums into your routine help keep the frizz away leaving the hair looking glossy and set in place. We also recommend styling products such as moose, hair curling creams.
If you've any queries or want to see more styles click the link Perming for men, or any concern about Hair Care do visit us at GQ Men's Hair Lounge JLT. We will be more than happy to help. Book any of our services from Men's Haircut, Skin Fades, Meni- Pedi, Waxing, Keratin. Our Professional & Skilled Barbers will take care of all your grooming needs from top to toe, we take pride that we are one of the best barber shop in Dubai which specializes in Perm for men in dubai, Keratin treatment, Haircare and Skin care.
Checkout what our customers have to say about us Testimonials 
Click here to book your service now.
---
---
Share this info with your friends

Facebook

Pinterest

---
---
Join our newsletter for more updates