A Step-By-Step Guide to Getting A Perm for Men.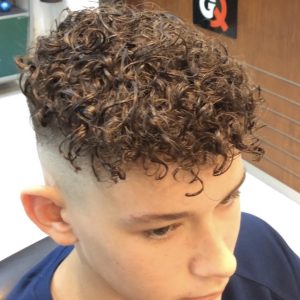 Perms are an ancient hair treatment method used to add texture and body to straight or fine hair. The process involves the use of chemicals and heat. A permed hair is a head-turner for sure. So, follow this step-by-step guide that will help you achieve a perm like never, before! How to perm your hair, it is a good idea to go for a perm if you have straight hair and want to add somebody and volume. Perms are not just for women; it is for men too.
Going out of the norm to try a new look is something most men have done at least once in their life when they were young. It's not until recently, however, that guys are beginning to realize how much better they can look with a little bit of effort. With so many unique hairstyles available, one might think it would be easy to find the right style for you but that couldn't be further from the truth.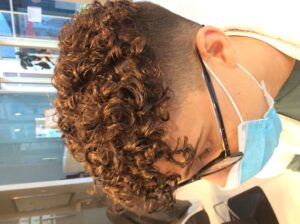 How to look for the right salon for a perm in Dubai?
When it comes to getting a perm, choosing the right salon is essential for achieving the desired results. To ensure you find the perfect salon for your perm, there are several steps you can follow. Firstly, conduct thorough research by reading google reviews and browsing salon websites to gather information about their expertise in perms. Consider the salon's reputation, years of experience, and the qualifications of their stylists. Secondly, seek recommendations from friends, family, or acquaintances who have had successful perm experiences. They can provide valuable insights and suggest salons that have provided satisfactory services. Next, schedule consultations with potential salons to discuss your hair goals and assess their knowledge and expertise. Lastly, consider the pricing structure, taking into account the quality of service and the products used. As product and reputation of the Men's salon/ Barbershop really matters, By following these steps, you'll be well on your way to finding the perfect salon that can give you the fabulous perm you desire.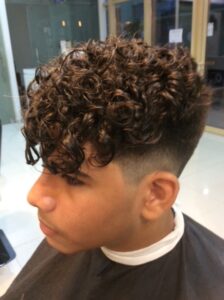 Are you a suitable Candidate for a Men's perm?
Determining whether you are a suitable candidate for a men's perm requires considering several factors. First and foremost, think about your hair type and texture. Perms work best on hair that is not too short and has enough length to hold the curls or waves. If you are not sure you can always check with the hair stylist while consultation.
Make sure you have not bleached your for hair 3 to 4 months before considering a perm as that could damage the hair.
How to prepare your self for perm consultation?
Have your style in mind tight, medium, or loose perm, take perm photos that you can show to the stylist.
Make an appointment at the salon, speak to them, take consultation if you are not sure, ask questions. You'll have to make a few decisions before you choose your hairstyle. Do you want to keep the length of your hair or do you want to cut it short or have a fade with it? You might also want to consider what look you're going for. if you're not sure, ask your stylist for some recommendations.
How to prepare for your Perm appointment?
Preparing for your perm appointment is crucial to ensure optimal results and a smooth salon experience. Firstly, communicate with your stylist or salon to understand any specific instructions they may have. It's important to not apply any styling products, oils to your hair. Avoid using conditioner or any heavy hair products before your appointment as they can interfere with the perm chemicals. Additionally, consider bringing reference pictures or examples of the desired curl or wave pattern you wish to achieve.
This will help your stylist understand your expectations better. It's also advisable to wear comfortable clothing that can be easily removed without disturbing the newly permed hair.
By following these guidelines and being prepared, you can maximize the chances of a successful and satisfying perm experience.
How much time does a perm procedure take?
The procedure can take 2 to 3 hours pr may be more depending on your hair length so allot that much time for yourself.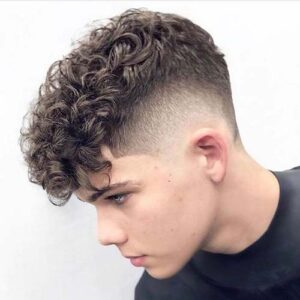 Perm after care
Find out what works best for your hair. A good hairstylist will tell you the best way to maintain your perm, but here are some general guidelines:
Wash your hair after 48 hours of the perm. swimming is not allowed as chlorine can spoil your hair, avoid going to the gym, or go out in the sun.
Do not comb your hair vigorously, be gentle and soft with those curls.
How long can perm last?
If taken care perm can last you 3 to 4 months maybe more as per the hair length and the style you have chosen.
Which products are best for permed hair?
Wash your hair in the shower with a sulfate-free shampoo and a treatment Mask recommended by the Perm professional, once every few days.
How much does a Men's Perm cost?
Several factors can influence the cost of a men's perm, leading to variations in pricing. These include the location and reputation of the salon, the knowledge of the stylist, how long they have been there. Additionally, the length and thickness of your hair, as well as the complexity of the desired hairstyle, can also increase the price. On average, you can expect a men's perm to range anywhere from $75 to $200 or more. Additionally, it is worth noting that the cost may encompass supplementary services such as a haircut, styling, or hair treatment. Keep in mind that investing in a reputable salon and an experienced stylist can contribute to a successful and long-lasting perm, so it's worth considering the quality of service along with the cost. Thus, it is important to take into account the quality of service alongside the cost.
In conclusion Men with curly hair rejoice! If you're looking for a professional, low-maintenance hairstyle, then getting a perm might be your best option. Perms have been around since the first half of the 20th century, and their popularity hasn't diminished throughout the decades. Some men are often wary of trying this hairstyle, though. This is because they imagine having to go through long hours sitting in a salon chair, But there's no need to be frightened — getting a perm can actually be more pleasant than you think! However, these days men are more fashion-conscious than ever before, and more and more guys have decided to give a perm a try.
I hope this post has helped to somewhat demystify the whole process of getting a perm. yes, it takes time, but the end result is worth it and you'll love your new look and hairstyle! If you've any queries about Perming for men or any concerns about Hair Care do visit us at GQ Men's Hair Lounge JLT. We will be more than happy to help. Book any of our services from Men's Haircut, Skin Fades, Manicure & Pedicure, Waxing, Keratin. Our Professional & Skilled Barbers will take care of all your grooming needs from top to toe, we take pride that we are one of the best barbershop in Dubai which specializes in Perm for men in Dubai, Keratin treatment, Haircare, and Skincare.
For more information and blogs as such you can search us with keywords such as hair salons for curly hair in dubai, Curly to straight hair, Perm for Men, Hair perming near me, Perm Dubai, salon for men in dubai, barber shop dubai jlt, Best barbershop in jlt dubai)
Click here to book your service now.
GQ Men's Hair Lounge, Best Men's Salon near me / Barbershop near me is the only 100% Men's Salon in JLT, dedicated to men's fashion hair cuts. Our barbers are true artists, trained in men's styling techniques. Let us pamper you with a range of treatments such as massage, facial grooming, Hair Perming near me and more.
Whether it's a quick men's hair cut or a luxurious facial, you can enjoy the ultimate male grooming experience at GQ Men's Salon/ Barbershop is the place to visit if you live or work in JLT, Dubai, Palm Jumeirah, Emirates Hills, Greens, Dubai Marina, Media City, JBR or Tecom area and want to get a trendy haircut. Look no further just book your appointment today at the best Barber shop in Dubai.
As the pioneers of introducing perms for men in Dubai and with over 11 years of experience, we have earned a reputation for being the top curly hair salon in the area. We offer a wide range of we offer a wide range of perm options to suit your preferences. Whether you desire a stunning wavy perm, a loose perm, a medium perm, or even a perm for short hair, we've got you covered. Additionally, we provide the option to complement your perm with a stylish skin fade or choose from various haircuts that perfectly complement your new waves. Our experienced stylists will work with you to create the perfect perm look that enhances your style and leaves you feeling confident. Visit GQ Men's Hair Lounge Men's Salon and embrace the curls with a personalized perm experience Our expertise in the field sets us apart as the best perming salon for men/ salon near me.
Experience the Difference