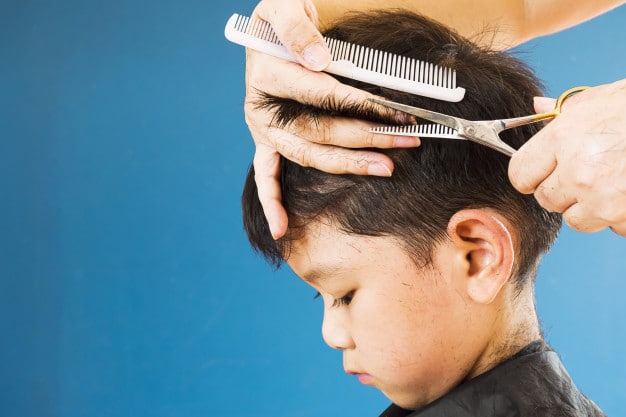 Gone are the times when kids used to get the same old haircuts, the same old look. Almost all kids would look like they had inverted bowls or mushrooms on their heads for haircuts.
These days kids want to feel as stylish as an adult. Young boys feel confident in flaunting themselves as little models with a variety of haircuts and styles. Some prefer the undercut hairdo and some sport the spike. Others prefer a solid shaved line as a parting or hair tattoos to be more elaborate. Further some go for perms and hair streaks, high and low lights with different colors. Some will prefer to straighten their curly mane. These are just to name a few. There is so much more in the world of hair.
Here at GQ Men's Hair Lounge Best Kids Salon Dubai
we offer cuts and other hair services for boys of all ages. Say goodbye to the yesteryear looks and welcome new and trendy hairstyles which make big and small look distinguished and stylish individuals instead of all looking the same. Since we know that kids and parents want something different with their hair experience, we provide it all. A Superior haircut with warm, experienced barbers in a meticulously clean place.
An environment which is elegant and fun at the same time. Our team can help give you and your child a haircut that will look great and grow out well on them. We brand ourselves as "The hair lounge indulgence" that creates father and son bonding every time you visit us. With 10 years in business providing all kinds of modern and innovative services in haircare and haircuts, we have experience with all types of hair.
Our service spectrum encompasses many techniques and procedures, from straightening to perming to high lights and low lights, to hair massages and hair care products that keep your hair game on point. These are just to name a few. Therefore, we have perfected our craft and have become popular in the hair salon business. Since we know that some kids are unable to seat themselves in place while the procedure, GQ's dedicated barbers strives to excel in cutting and styling even the most challenging and wiggly kids in a safe and gentle manner. We are patient and know how to handle scared and hesitant kids.
Being calm and playful, engaging in small talk so the kids get a sense of trust and a feel of safety while the haircut, is our top priority. We are of the opinion that it is our responsibility to ensure the tiny tots have a very pleasant experience while in our premises. Rest assured that you and/or your child will get a quality hair experience every single time.
In conclusion our professional barbers choose to work at GQ, only and only because they know that GQ focuses only on giving quality services that not only work for adults but also for kids too. The GQ team takes pride in their job of taking special care of you and your child's needs.
GQ believes that satisfied customers is the best source of advertisement. Therefore, our customer service opens unique opportunities to offer an excellent customer experience.
So, to get the GQ feel, call us to schedule an appointment for the services of your choice or book online! Visit our kids hair salon in JLT .
We want to make you and your child look and feel great. It is a hair pleasure to welcome the new 'GQ YOU'
——-Soukoun
Experience the Difference